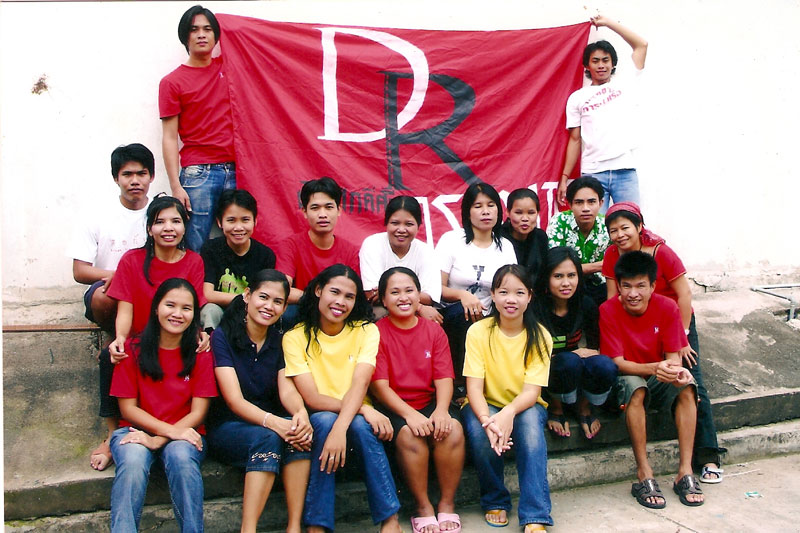 April, 2008 Brand: Dignity Returns The Solidarity Factory Cooperative was created by former Bed and Bath factory workers. This followed a three-month struggle by workers for payment of money owed to them, following its unexpected closure in October 2002. "…in this place, there is no boss banging over or taking advantage of us. There is no threat and insult. Most importantly, here is our own factory…"
Worker action, supported by an international solidarity campaign, put pressure on the brands sourcing at Bed and Bath to take action and workers ultimately received compensation from the government's Employee Support Fund. About forty of the former Bed and Bath workers pooled together loans they had taken from the Government Savings Bank, to open a small garment factory cooperative in Bangkok: The Solidarity Factory.
For more information about the history of the factory see:
http://www.thailabour.org/wnews/061019a.html
Share ownership:
All workers are members of the The Solidarity Factory cooperative. The cooperative has production, finance and coordination and marketing departments managed by workers who have volunteered to take on this responsibility. Decisions are made through collective discussion.
Activities and Markets:
The Solidarity Factory produces campaign t-shirts under the Dignity Returns brand for trade unions and other organisations working on social issues.
In addition, the Solidarity Factory also manufactures and retails t-shirts bags, fabric folders, other garments and fabric-based products to order and as well as to in-house design. Textiles used include cotton and silk. Some products are made using natural dyes. The Solidarity Factory also fulfills sub-contracting contracts.
Products are retailed mainly in Thailand with additional markets in Europe and Australia.
Standards:The workers themselves decide the standards to which they will work.
Working hours and wages:
A standard day is eight hours with two to three hours overtime depending on the order. All workers receive the same basic pay. The criteria for the recently introduced incentive system is decided by members.
Monitoring and verification
The factory is member-owned with a democratic structure and is therefore worker led. Workers monitor their own situation and can take problems to the cooperative for discussion. Solidarity Factory workers raise awareness of workers' rights issues internationally and nationally.
If small problems arise, the members take responsibility for the issue concerned and discuss how to solve it. In case of major problems and issues that affect the majority or all of workers, the workers have a collective discussion and brainstorm how to solve together.
Comments and questions
The Solidarity factory is an interesting example of workers taking control over their own labour conditions and we look forward to seeing how this progresses.
It would be useful to know if the workers set labour standards they expect to meet and for them to report on how well these standards are being met.
More info: "Alternative" or "Ethical" Clothes
Dec 2003, Bed & Bath Workers Receive Compensation and Start Cooperative
Brand: Dignity Returns Company / Ownership:
The Solidarity Factory Cooperative (Formerly Bed and Bath workers)
38/79 – 81 Ake-kachai Road 64/2 Bang-bon
Bang-khuntien District, Bangkok 10150
Bangkok
Tel: +66(0)2 899 0445
SRC: Via @CleanClothes
http://archive.cleanclothes.org/campaigns/when-the-postman-rings/102
https://www.dignityreturns.org/wp-content/uploads/2014/06/DRSCAN01.jpg
533
800
Dignity Returns
https://www.dignityreturns.org/wp-content/uploads/2017/08/dr-base-logo-3.png
Dignity Returns
1999-11-30 09:16:10
2017-08-21 01:52:35
Dignity Returns