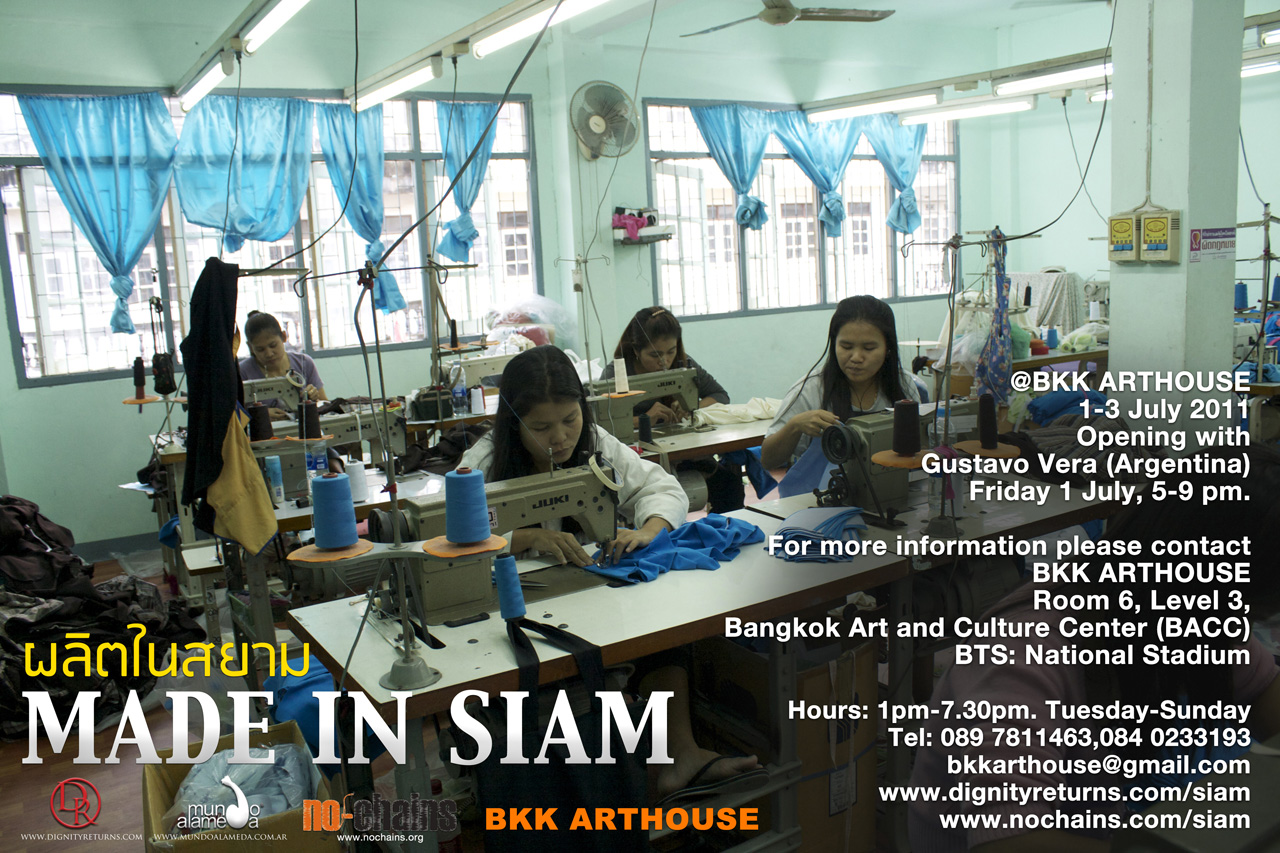 By Brian Curtin
In early 2010, the Bangkok-based curator Logan Bay invited a number of artists to create works in a silk-screen factory at the edge of Samut Sakhon, where an exhibition titled Free Size was subsequently mounted.
The PR for the exhibition explained, "In a mass produced world of global goods, the act of creation is often lost or forgotten. Hidden machinery cranks and sweats out elements of our everyday life, yet we rarely get a glimpse of the environment where ideas are physically forged."
The environment for Free Size was a scruffy, concrete site that competed with the artworks for attention.
For the workers and art-loving visitors, a productive tension was generated between the very notion of creativity and the conditions of manufacture, Or, what could notions of creativity mean in a low-pay hinterland such as this?
This question was somewhat "answered" recently in Bangkok when Bangkok Arthouse held an exhibition titled Made in Siam; through the event is officially unrelated to Free Size.
Organized by Dignity Returns, a cooperative of ex-sweatshop workers, this show case was a group of workers carrying out their daily sewing tasks at the Bangkok Art and Culture Center (BACC).
I exchanged email with spokespeople for Bangkok Arthouse and Dignity Returns.
Please introduce Bangkok Arthouse
We showcase emerging and experimental art, both home-grown and international. We aim to mount challenging exhibitions for the diverse demographic of BACC visitors issues that trigger awareness, questions, and dialogue. We believe in giving a voice, regardless of cultural/artistic hierarchies.
Tell me how Made in Siam came to be.
Thailand's economy has developed through cheap exports, yet the actual production of these items occurs out of sight in the industries estates of suburban Bangkok, private residences that act as subcontract-sweatshops, or in facilities along the Thai-Burmese border. A shopper in Siam Square is undoubtedly oblivious to how a cheap garment bearing the label "Made in Thailand" was made; and so are consumers on the other side of the world. With this in mind, we decided to bring out dignified version of the garment production process into the public, setting up our worker cooperative's machines in the Bangkok Arthouse, which sits in the heart of Siam.
What did audience gain?
Our cooperative was formed by workers who were dismissed from their h=jobs without legally-stipulated compensation, more than 8 years ago. During the months of protest that followed our unlawful termination, we were finally able to become close to our fellow workers, alongside whom we had worked previously in silence because of the factory's oppressive conditions. After forming Dignity Returns cooperative in 2003, we now manage all aspects of our factory's business on our own. We vote on all decisions affecting our cooperative, including work hours, salaries and even the plans for this exhibition. Our cooperative was made locally by Thai workers though the effort of each of our members. It is the product we are most proud of.
Another initiative of ours is No Chains, a global brand of sweat-free products that we produce jointly with Mundo La Alameda, a worker cooperative similar to ours in Buenos Aires.
Please comment in the general situation for sweatshop workers in Thailand.
Their average monthly earnings are less than 6,000 baht (188$) for working 8 hours a day. Therefor overtime work is necessary for them to survive. For many whose income, including overtime, is still not enough, or for workers whose employers cannot compete with cheaper subcontractors, a "debt-bonded" cycle emerges.
This vicious cycle begins when workers borrow from load sharks or credit card providers. The workers soon have no choice but to spin borrowed money from creditor to another in order to cope with the immediate economic circumstances of the household. Other workers choose to gamble. These exploitative situations force workers further into dire poverty.
Can you comment on how to embrace of democratic conventions by Dignity Returns fits with Thai cultural values?
When we formed our cooperative, we relied in trust and democratic management in order to ensure that our organization would be equitable, transparent, and stable. A question of whether or not our self-managed cooperative is suitable for Thai culture did not cross our minds. We didn't think about whether it was appropriate or not. It's hard to imagine hos this activity could "destroy" our culture. Ultimately, we are trying to find a way of working that will allow us to survive under neo-liberalism, the dominant economic system today. In the business sphere, democracy does not govern how decisions are made. For example, outside of our own factory, social hierarchy, unquestioning respect for elders, obedience to authority, coercion and a feudal mindset all prevent workers from taking control of their own lives. We are a fairy special case here in Thailand. If you still believe in this hierarchical, feudal culture, then you will not challenge the current economic system.
[divider]
Made in Siam took place at Bangkok Arthouse, Room 6, Level 3,
Bangkok Art and Cultural Center from July 1-3 2011.
For further information about the project,
contact bkkarthouse@gmail.com
www.dignityreturns.org/siam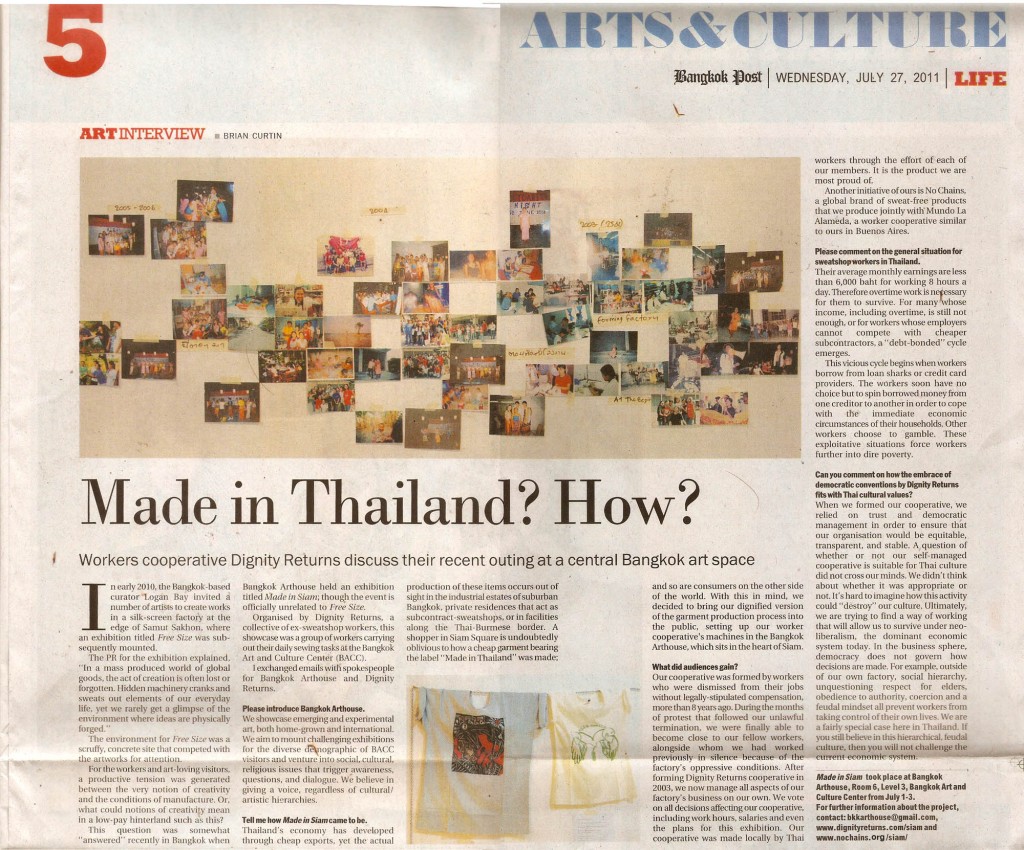 SRC : http://www.bangkokpost.com/lifestyle/art/248994/made-in-thailand-howMade in Thailand? How?
©Post Publishing PCL. All rights reserved.
https://www.dignityreturns.org/wp-content/uploads/2014/08/MadeInSiam1280x853px.jpg
853
1280
Dignity Returns
https://www.dignityreturns.org/wp-content/uploads/2017/08/dr-base-logo-3.png
Dignity Returns
2011-07-27 04:43:35
2017-08-21 01:58:58
Made in Thailand? How?